Already felt in love with Lombok ?
Book your place by email!
« Kitesurfing is our passion! We kite, we love it, we teach it »
The conditions for learning kitesurfing around Kaliantan are close to perfect – flat water, constant wind, absence of traffic and just huge space for training! We have been teaching kitesurfing for over 7 years around the world and have been teaching in Lombok for 4 years, hundreds of happy students became independent kiters with us.
Our goal is to help you become an independent and confident kiteboarder, ride safely with pleasure in any conditions and kite spots.
We teach fast, safe, fun and easy way!
The complete course of kitesurfing is usually divided into 3 stages/levels.
LEVEL 1. DISCOVERY PROGRAM (2 HOURS/DAY*)
Basic theory
Carry and set up the lines and kite
Safety system explanation and simulation
Kite flying exercises.
Walking with the kite on the beach
Landing and launching
LEVEL 2. BODY DRAG AND WATER START PROGRAM (2 HOURS/DAY*)
Power body dragging
Upwind body dragging with one hand
Upwind body dragging with board
Recover board in deep water
Water start and short rides in both directions
Self-rescue in the water
LEVEL 3. INDEPENDENT RIDER PROGRAM (2 HOURS/DAY*)
Controlling the speed by edging
Stop by edging
Switch the direction
Right of way rules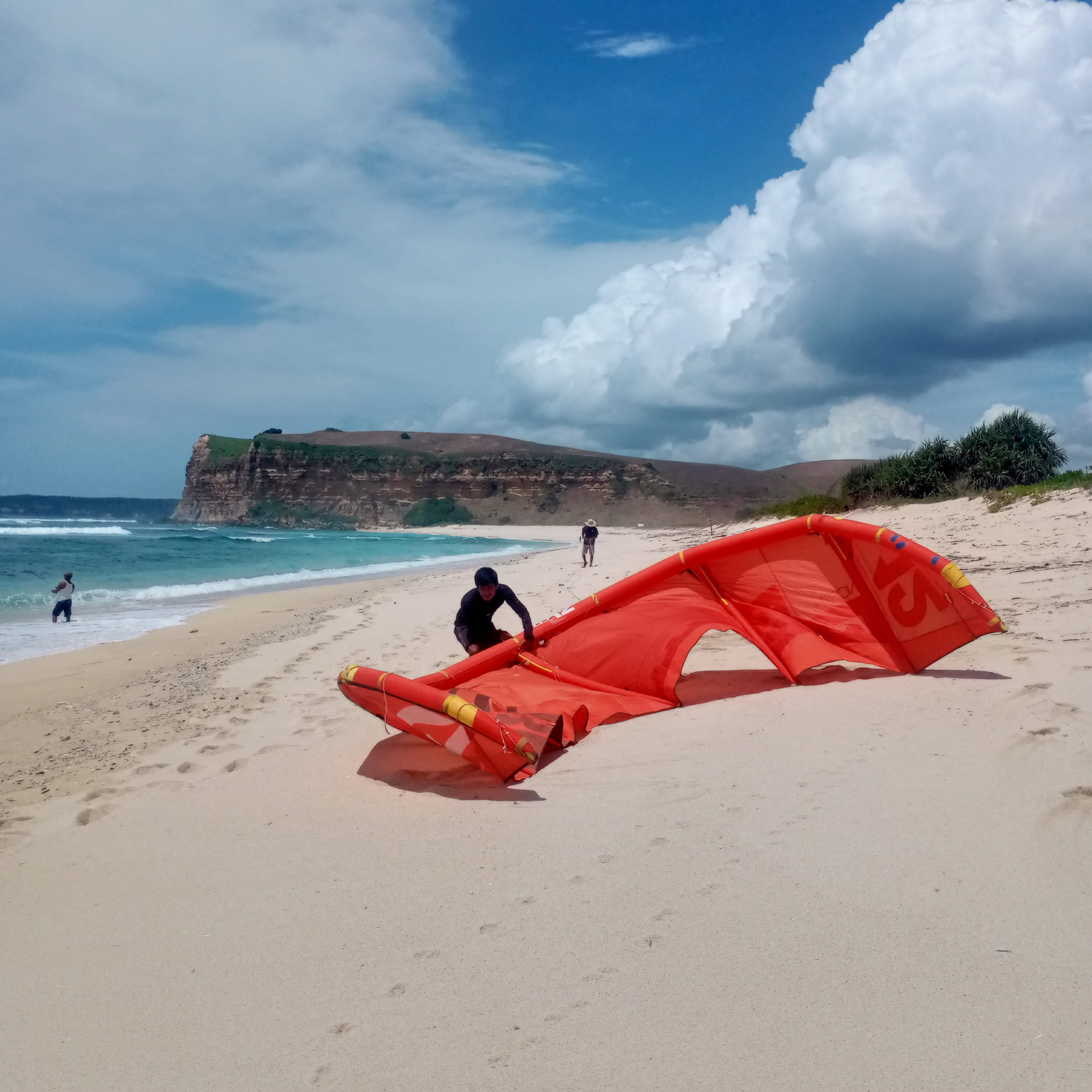 Private beginner package, 6 hours
300 USD.
Private beginner package, 9 hours
420 USD.
From Zero to Hero, 12 hours
530 USD.
Refresher/Advanced lesson, 1 hour
35 USD with your own gear/55 USD with school gear.
* Price includes all the kitesurf equipment.
* All tuitions are held in the format of 1 student : 1 instructor.
* Any package can be extended to the next one. You pay only the difference.
* The time given in brackets for each level is approximate and based on our large teaching experience. Naturally, we all learn at different speed – some students may need a little more time, others – a little faster. Whether, 8 or 14 hours, in the end, it will no longer matter when you start independently and freely glide on the surface of the ocean, steering a kite! And we make sure you will !
EQUIPMENT HIRE IS ALSO AVAILABLE
Kite – Board – Harness
Prix IDR 600,000 for 2 hr.
Kite only
Prix IDR 400,000 for 2 hr.
Board only
Prix IDR 300,000 for 2 hr.
Harness only
Prix IDR 100,000 for 2 hr. Kit